Each week, we will look back at the games that were to see which players had the largest individual performances. I say largest because the contributions that we can measure (from play by play) tend to be things that are easy to count. This includes, goals, shots, assists, turnovers, penalties, etc. We can't measure a defender who shuts down an opposing player so completely that he doesn't even touch the ball. Still, it is interesting to be able to identify the players that really filled it up each weekend and give them a shout out here.
For a bit of background, in order to rank single game performances, we needed a way to condense box score stats to a single number for each player. In order to do this, we relied on our expected goal values methodology, which assigns a goal value to each type of play depending on how often it leads to a goal in the next 60 seconds. By adding up all the expected goals added for each player, we can get to that single number and these rankings.
We have also tagged each performance with the opponent's ELO rating. The higher the number, the stronger the opponent. This should help to give some context for each performance. Did the player feast on the dregs of D1 or did they put up these numbers against a quality opponent?
Click on any player's name or the PRO logo (
) and you'll head straight to the detailed breakdown on their LacrosseReference PRO page. As opposed to last year, all players appearing in the weekly rundown are unlocked and the information on their page is available to all readers.
Top Single Game Scores of the week
#1 – Marc ORourke (Bryant) – 10.23 goals added
Apr 16 vs Sacred Heart
Opp ELO: 1178
For a lot of this year, defenses have seemed to premise their defense against Bryant on not letting Marc O'Rourke beat them. So far this year, he's had 5 different games where he's taken less than 8 shots. And it seems to have worked to an extent; the Bulldogs' offensive efficiency is down a bit this year.
He must have enjoyed Saturday's game. The 21 shots he took was nearly as many as he'd taken in his previous 4 games. And the 9 goals set a career (and program) record. But it wasn't just a volume thing. The 43% shooting mark was a season-high as well.
#2 – Alston Tarry (Bucknell) – 8.02 goals added
Apr 17 vs Holy Cross
Opp ELO: 1222
Tarry has been an efficiency darling all season. Here's where he rates among the highest usage Patriot League players.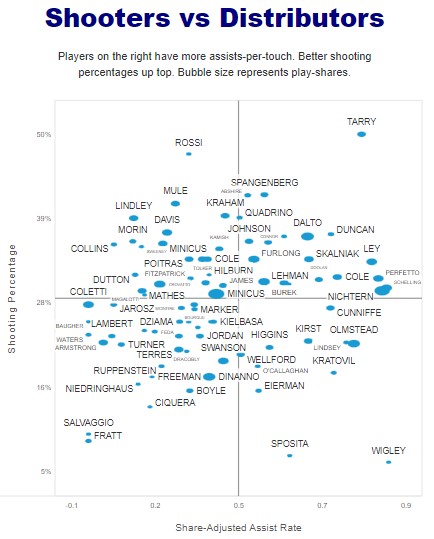 Phenomenal mix of a high assist rate and an excellent shooting percentage. Incredibly valuable ability to create offense for others and still bury goals when that option is cut off.
#3 – Justin Coppola (Villanova) – 8.05 goals added
Apr 16 vs Providence
Opp ELO: 1386
Coppola won 21 faceoffs against Providence, had a 64% win rate, and earned a 7.09 composite EGA mark, which measures production and efficiency. He had 17 faceoff wins (65% win rate) against Denver and earned a 3.99 cEGA mark. The difference?
Devittes
.
Against Providence, he scored 2 points and had zero turnovers. Against Denver, he didn't have a point and he did commit a turnover. It's not just about faceoff wins anymore
#4 – Will Coletti (Army) – 7.96 goals added
Apr 16 vs Cornell
Opp ELO: 1882
Against Cornell, the Black Knights' offense scored on 38% of their possessions. The offensive explosion, combined with a defense that allowed just 10 goals, gave Army the boost they needed to become a legitimate at-large contender.
But don't overlook the +12 possession margin that Coletti helped them achieve. Consider this, the offense also scored on 38% of their possessions, but that was just a 2-goal victory in part because the Greyhounds had a small possession advantage. 38% on offense is a lot more valuable when you are also getting fed possessions. As of today, Coletti is the 34th ranked FOGO in the faceoff Elo ratings.
#5 – Brandon Dodd (Air Force) – 7.39 goals added
Apr 16 vs Cleveland State
Opp ELO: 1345
I have to think the hardest thing for a coaching staff to do is get the mix right. How do you create a system where every player is in a role that maximizes their talents? Put too much on a guy's shoulders and efficiency goes down. Don't give a talented guy enough opportunity and you leave goals on the field. Screw it up ego-wise and you've got bitter players. It's a hard challenge.
Feels like Air Force is circling the right mix though. Against CSU, Dodd took 15 shots, scored 7 goals, and had his most efficient game of the year. Against Detroit, he took 20 shots, scored 5 goals, had 3 turnovers, and was just so-so on the efficiency scale. The 8 points (CSU) vs 7 points (Detroit) masks how much better he played against the Vikings.
#6 – John Piatelli (Cornell) – 7.06 goals added
Apr 11 vs Syracuse
Opp ELO: 1609
So far this year, Piatelli has taken 25.4% of the Big Red's shots. And he's been as close to a bell-weather for this team as anyone.
Cornell's four worst offensive games this year were Dartmouth, Lehigh, Army and Penn. Those games represent 4 of the 5 lowest efficiency games for Piatelli on the year.
#7 – Jackson Intrieri (Jacksonville) – 6.67 goals added
Apr 16 vs VMI
Opp ELO: 1095
Against VMI, Intrieri was the guy for Jacksonville; he's been the third option this year, generating a team-high 22% of the JU assists. But in this one, he was numero uno; his 6.8% play share set a career high as did his advanced metrics.
But it hasn't just been this game. The first-year Dolphin has had an impressive season on my fronts.
#8 – Brennan O'Neill (Duke) – 6.58 goals added
Apr 14 vs Virginia
Opp ELO: 1822
When Duke had to have it, Brennan O'Neill had his 2nd most efficient game of the year. As of right now, Duke is still in pretty good shape to get a bid to the tournament. Win one of their final two and, barring bid thieves, their RPI and SOR should be high enough.
As for the big win over UVA, it was just Brennan O'Neill's 11th highest usage-rate of the year. That is less about his usage and more about how balanced the Duke attack was. It didn't need to be a super-human effort from 34 because
#9 – Nicholas Ramsey (Yale) – 7.05 goals added
Apr 16 vs Brown
Opp ELO: 1613
Ramsey is currently 30th in the
faceoff Elo ratings
. In a game where Yale struggled in many ways, he was a bright spot.
Safe to say that it would have been much worse had he not won as many faceoffs as he did.
#10 – Jack Kiernan (Siena) – 6.70 goals added
Apr 16 vs St. Bonaventure
Opp ELO: 1439
What a game! Comeback of the week in men's lacrosse definitely goes to the Saints.
And Kiernan's seven points were a big part of the excitement. In the 4th quarter alone, Siena scored on 64% of their possessions, shot 50% and perhaps most importantly, turned the ball over zero times.
Expand your Fandom
The entire reason for LacrosseReference to exist is to make it more fun to be a lacrosse fan, parent, player, or coach. What began in a bar with an empty Google search for an NCAA game win probability has become the sport's leading source for non-vanilla stats, analytics, and insights. Thank you to those who've been following along since 2015 and welcome to those who are just discovering how LacrosseReference makes it more fun to follow college lacrosse.